---
Currently Viewing Mobile Version
---
Switch to Standard Version
ONEBLINDGUY dot COM. Master Your Universe
Website Design. One Blind Guy

October 24, 2016. Detailing Your Website: (Update. The church sited in this story reworked it's calendar page to reflect the current month of November (not August) ten days after this story was published. Still, what is written below is of great importance) How much time do you have on your hands? Hopefully, you have a little. Let me tell you why. It seems simple enough. Your organization wants to get into the website game. First, you think up a domain or the address that folks will remember and type into the address of their internet browser. Then, presto, there is your website! Secondly, this organization in creating a new website will start looking into the kind of programs offered to create the code that makes a website sing. Many will go to www.godaddy.com and sign up for a web deal. i mean, you get the domain and a website program (most likely Wordpress) and, after a few hours of work, you are in the game. Does this sound familiar? It should, because that is the way thousands of folks go about it. So, what's the problem? Many follow this exact procedure or something that closely resembles it. However, the biggest problem is that most never work out a design and strategy that takes into account site maintenance. I'm not referring to nuts and bolts maintenance of the hosted server. No, I'm referring to something more basic. Who is going to keep the website content updated and fresh? And, what is a sound strategy to making that possibility painless, effective and efficient.
---
Many don't think about this. A bit of website browsing will prove it! so many websites are created and then forgotten. Again, don't believe this? Then, do your own research. Here is one example. This one is especially problematic, because this church is marketing their website misinformation and problems on their outdoor sign! That is a marketing 101 no-no. But, attention-to-detail would make sure this never happens. The following image gives all the information you need. The church outdoor sign (well-placed and nightly lighted) tags the inspirational quote with a website footer. Check it out, especially the Calendar of Events page. I'm not slipping you an old image; this image was posted on the church Facebook page on October 18, 2016.

St. John's United Church of Christ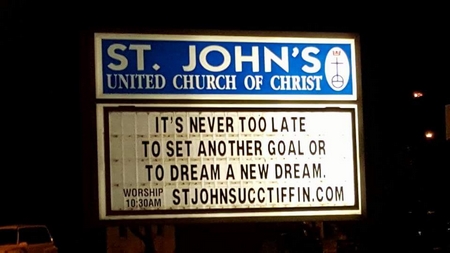 I don't know about you, but, this church would probably slip further down my list of visitation especially since there is another congregation of the same denomination in town. There is. And, they also have a website! The question that would nag me? Does lack of attention spill over to lay leadership and staff? Does anyone in this church visit the website at least once a month. If only for the fun of it? Learning is by observing. So, a visit once in awhile sure wouldn't hurt. To check the St. John's United Church of Christ website out, tap the link above the image. Then, tell me what you think? Use the Send Mail tab at the top of this page. I don't use a comment section. Too bothersome. Plus, most comment engines use spam blocker (confirmation requirement) that is not accessible to those using a screenreader.
---
Of course, in the mainline church tradition, there are several denominations represented in town. Here is the list. Any favorites here as to design and useability? Tell me what you think.
---
Faith United Methodist Church. First Presbyterian Church. St. Paul's United Methodist Church. Trinity United Church of Christ. Old Trinity Episcopal Church. St. John's United Church of Christ. First Christian Church (DOC). First Lutheran Church (ELCA).



William Brandes the owner of William Brandes Consulting, Tiffin, Ohio with twenty years experience in website design, server-hosting, online marketing, and, lives with his wife Pam and two adult children. William is a power user of adative technology, enjoying reading (Kindle/Windows tablet/VR Stream), playing guitar and golf in his spare time. How does your website rate, especially when it comes to accessibility? For William digital technology isn't an option, it's an essential part of the accessible world!




---
Print Version
---
Site Design by William Brandes Consulting
---
Site Powered by CMSimple
---
TOP